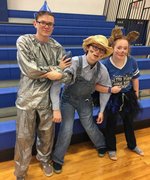 Coach Anderson Asks Players to Have Courage, Heart, and Brains
The Wolves opened the 2017 season by defeating Dallas First Baptist 54-26. Lead by both a strong running game and big plays in the passing game, the Wolves jumped to an early 21-0 lead and never looked back. The JV fell to Bells 18-6 on Thursday.
View the Wolves Athletic Schedules under the Athletics tab for upcoming season games!