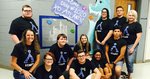 Freshmen Receive Welcome!
The 2016 FISH Camp was held on Thursday, August 18, at the High School Campus. All incoming freshmen were urged to attend and become oriented to their new campus. At the camp, freshmen got their schedules and lockers, had a tour of the campus, participated in fun and games, and enjoyed refreshments.
The camp was sponsored by the High School Student Council and Campus Guidance Counselor.