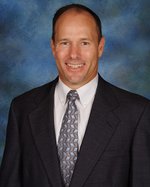 Principal Christopher Sheets
903-496-2891 ext 10
Email
Mr. Sheets resumed his high school principal duties during the 2015-2016 school year. He is excited to be back in the education field and to be working with the great young adults and wonderful staff at Wolfe City High School. Chris believes that a school's top priority is to provide an opportunity for all students to acquire a quality education in a safe, nurturing, and productive environment. As an educational leader, Chris will work collaboratively with all the stakeholders of the learning community to create a school that effectively meets the needs of students in the twenty-first century.
Mr. Sheets earned his Bachelor of Arts degree from Austin College in 1992 with a major in Biology. He entered teaching in 1993 with an alternative certification in composite science. Chris' classroom and coaching experiences span 10 years at both the middle and high school levels in Dallas ISD. In 1995 Chris earned his Masters of Arts in Teaching Science Education from the University of Texas at Dallas. He subsequently earned his Principal Certification in 2002 followed by his Superintendent Certification in 2007 from Texas A&M Commerce.
Mr. Sheets began his administrative career at Frisco ISD as an assistant principal at Clark Middle School. In 2003, he accepted the opportunity to return to his home town of Wolfe City as the high school principal. He served in that position until 2008, when he was called to active duty with the United States Army for what would become a seven year departure from the district. During his military absence, he spent the first four years as a Casualty and Mortuary Affairs Team Leader at both Alexandria, VA and Ft. Knox, KY. He then spent a year in Djibouti, Africa where he served as the logistics director for the Special Operations Command and Control Element. During his last two years he was stationed at Scott Air Force Base, IL where he served on the Battle Staff for the Surface Deployment and Distribution Command.
Chris' wife Stephanie and two children, Meredith and Marissa, are the center of his attention during his free time. They enjoy traveling, boating and playing volleyball together.